Current & Upcoming Events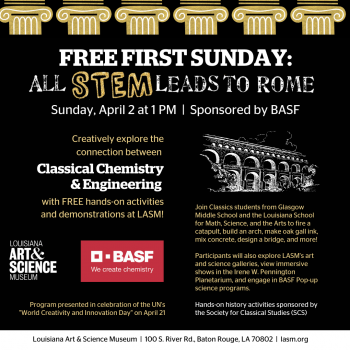 April Free First Sunday: All STEM Leads to Rome
Sunday, April 2, 2023 at 1:00pm - 5:00pm
Join us on Sunday, April 2nd, from 1 PM – 5 PM for April Free First Sunday: All STEM Leads to Rome, with free admission sponsored by BASF and hands-on history activities sponsored by SCS.
Creatively explore the connection between Classical Chemistry & Engineering during this free admission day featuring hands-on activities and demonstrations! Participants will fire a catapult, build an arch, make oak gall ink, mix concrete, design a bridge, and more in celebration of the UN's "World Creativity and Innovation Day," which is coming up on April 21.
LASM's Free First Sunday program provides access and opportunity for all visitors on the first Sunday of every month with complimentary museum admission that also includes all shows in the Irene W. Pennington Planetarium. This month's Free First Sunday is generously sponsored by BASF.
Companies or organizations interested in sponsoring a future Free First Sunday at LASM may contact LASM Development Director Frances Lee at flee@lasm.org.